The Family
James Edmund Scripps arrived in Detroit in 1859 and soon after became manager of the Detroit Tribune newspaper. In 1873, with insurance proceeds, he launched his own paper, The Evening News (later The Detroit News), to appeal to the growing class of working men and women. The paper became a great success and with his vast fortune, Scripps was able to acquire a significant collection of Old Master paintings during a five month European tour.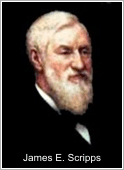 He went on to figure prominently in the founding of the Detroit Museum of Art. In 1885 he helped establish the museum with a gift of $50,000 and in 1889, he presented the museum with a collection of 70 paintings costing $75,000 - a very substantial sum in those days. This was the beginning of a family history of major gifts to what was to become the Detroit Institute of Arts.
Scripps and his wife Harriet (Messenger) had four children, Ellen, Anna, Grace and William. Their eldest daughter, Ellen Warren Scripps (1863-1948), married George Gough Booth. Booth worked for his father-in-law at the newspaper and later was involved in the founding of the Booth Newspaper chain. He and Ellen are also notable for their philanthropy and museum support.
In 1891, the Scripps' second daughter Anna Virginia Scripps married Edgar Bancroft Whitcomb. In a city of Detroit biography, Edgar Whitcomb is described as "numbered among the substantial and progressive business men of Detroit... heavily interested in real estate, specializing in central business property investments and building."
The Whitcombs had two children, Harriet and James. Harriet married A. D. Wilkinson and James married Sybil Bennett.
Like her father and the Booths, Anna and Edgar became very generous benefactors of the DIA. Further evidence of the Whitcomb's generosity can been seen in the Conservatory on Belle Isle.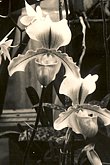 For years, Anna Whitcomb, along with her head gardener William Crichton, had cultivated hundreds of rare and exotic orchids in the greenhouses on her estate. She had always shared these with the public at the annual Detroit Flower Show. Upon her death in 1953, she donated 600+ treasured orchids to the Belle Isle Conservatory. In 1955, a grateful city announced the restoration of the Albert Kahn-designed building which was then renamed in honor of Anna Scripps Whitcomb. The Conservatory now has one of the largest municipally owned orchid collections in the country thanks in large part to the Whitcomb bequest.
The property at 383 Lake Shore road had previously been part of a larger parcel belonging to wealthy Grosse Pointer, Theodore Parsons Hall. Back in the early 1880's, Hall had acquired some 63 acres stretching back almost 2 1/2 miles from Lake St. Clair and there he built his summer home which he named "Tonnancour." The estate was notable for it's fine Victorian residence, Swiss-style boat house and a reclaimed beach with a rustic grotto commemorating the "Legend of The Nun of St. Clair."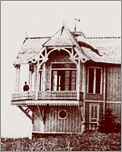 T.P. Hall died in 1909 and the original "Tonnancour" home burned down approximately five years later. A portion of the Hall land became part of the Country Club's golf course. Three of Hall's daughters - Marie Hall Fuger, Josephine Hall Irvine, and Nathalie Hall Scott - each built new houses on the divided lake-front parcels shortly after the old structure came down.
In late 1922, Anna and Edgar Whitcomb purchased the house and land that belonged to Nathalie Hall Scott for the large sum of $235,000. The Scott/Whitcomb house, which is featured in this online exhibit, was torn down 30 years later by their son James who built the attractive Spanish-style house that still stands in its place.
In the pictures that follow in the slideshow gallery, you will see the tastefully decorated rooms that feature paintings by Titian, Rembrandt, and Rubens, among others. (mouse-over the photos where indicated to see several close-ups) And you will also see family photos, the greenhouses, and Anna Whitcomb's prized orchids.
Learn more:
Listings from
"The Book of Detroiters"
A. N. Marquis & Company - 1908
WHITCOMB, Edgar B.; born, Boston, 1866; son Of Cummings D. and Mary G. (Webber) Whitcomb; educated in Detroit, 1891, Anna V. Scripps. Began active career in employ of the Detroit & Cleveland Navigation Co., 1881, and was general passenger agent of the company, 1886-91; manager Tribune Printing Co., 1891-93; has been engaged in business on his own account, principally real estate, since 1893. President The James E. Scripps Corporation, Gordon Vinegar Co.; vice president Evening News Association; director Bay City Times Co. Member Detroit Real Estate Board. Independent in politics. Presbyterian. Club: Detroit Automobile. Office: 65 Shelby St. Residence: 40 Pitcher St.
SCRIPPS, William Edmund, publisher, manufacturer; born, Detroit, May 6, 1882; son of James Edmund and Harriet Josephine (Messenger) Scripps; educated at University School (manual training) Cleveland; Detroit University School (manual training); Michigan Military Academy, Orchard Lake, Mich.; married, Amherstburg, Ont., June 27, 1901, Nina A. Downey. Has been engaged in business in Detroit since beginning of his active career in 1900; treasurer Evening News Association; secretary and treasurer James E. Scripps Corporation; general manager Scripps Motor Co., manufacturers of marine gasoline engines, established, Nov. 15, 1906. President Pouliot Boat Works, builders of launches and speed crafts. Member Board of Commerce, and Associated Press. Republican. Episcopalian. Club: Detroit Motor. Recreations: Boating, automobiling, traveling. Office; 65 Shelby St. Residence; 598 Trumbull Av.
CLARK, Rex Brainerd, stationer and printer; born, Detroit, May 31, 1876; son of Ransom Bruce and Nellie (Russell) Clark; educated in Detroit public and high schools; married at Detroit, Sept. 4, 1901, Miss Grace M. Scripps, youngest daughter of Hon. James E. Scripps. Began active career selling rubber stamps; added line of typewriter ribbons and carbons; became state agent for Underwood Typewriter, and began dealing in general office supplies; began business in Hodges building, then in Chamber of Commerce, later at 32 West Congress St., 145 Griswold St., 69-73 Griswold St., and since Apr., 1905, has been located in present quarters on Woodward Av., occupying six floors, where has added manufacturing and other departments and dropped typewriter line; firm incorporated, Nov., 1904, as the Rex B. Clark Co., office outfitters, stationers and binders, of which is president and treasurer. Independent as to politics. Member Detroit Board of Commerce. Mason (Knight Templar). Club: Commercial. Recreation: Automobiling. Office: 127-129 Woodward Av., Detroit Residence: Grosse Pointe, Mich.