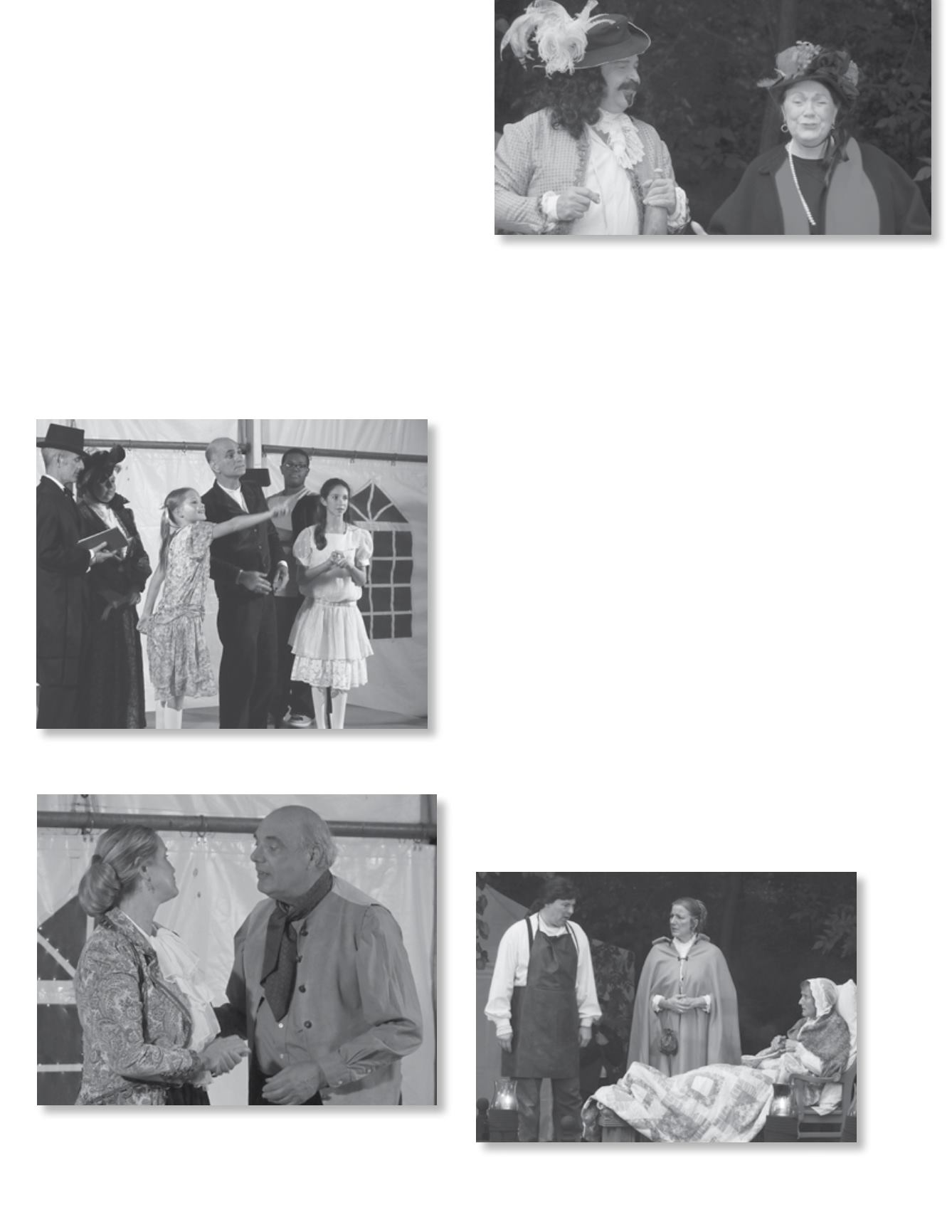 4
Legends wrap up
Despite the threat of bad weather, the show did go on.
Not on the outdoor stage as planned, but under the protection
Legends of the Lake
reenacted some familiar and some not
so familiar stories about people whose lives were connected to
Researched by the Grosse Pointe Historical Society, written
and produced by the Grosse PointeTheatre, and presented at
the Edsel and Eleanor Ford House,
Legends of the Lake
to sold out audiences each of the three nights in October.
The production was directed by Jane Burkey, and produced
by Emmajean Evans with Mickie Pizzimenti as the Stage
Manager.The researcher for the project was Isabelle Donnelly.
The seven vignettes were narrated by Marie Carolyn
Watson Hamlin (Patricia O'Brien) who published
Legends of
Detroit
in 1883. Robert Cavalier de la Salle (Eddie Tujaka)
told the story of the naming of Lake St. Claire.The vignette
was written by Harry Burkey.
"The Devil's Grist Mill," written by Mary Lou Britton,
featured Shawn Henry, Pat Stewart, Charly Davis and Robby
Mullinger in the retelling of a tale of greed and the supernatural.
In Grant's Castle with Henry Kelsey III, Perry Calisi, Sal
Rubino and Elizabeth Schaefer, the audience learned about
this extraordinary family and their role in the development
of the cultural life of the area.The vignette was written by
The story of Euphemia and Pierre Provencal written by
Peter DiSante was presented by Robby Mullinger, Cyndy
Beth Teagan, Jack Fennessy, Cliff Levin, Henry Kelsey II,
Natalie Boehmer, and Sydney Anderson presented Margie
Reins Smith's vignette and about the Hall Family and their
The story of Josephine Weber Gaukler was written by
Dennis Wickline and was acted by Mary Stelmark, Stella
Woitulewicz, Charly David and William Giovan.
"The final vignette, about the Cotswold home designed
and built by Albert Kahn for Edsel and Eleanor Ford, was
Cyndy Nehrand, William Giovan as Euphemia and Pierre Provencal.
The Hall family photographed at Tonnacour.
Jean LeDuc (Charly Davis), Martine (Pat Stewart), Josette DeLuc
(Shawn Henry) reenact the legend of "The Devil's Grist Mill."
Narrator Marie Carolyn Watson Hamlin (Patricia O'Brien) discovers the early
history of Lake St. Clair from Robert Cavalier de la Salle (Eddie Tujaka).