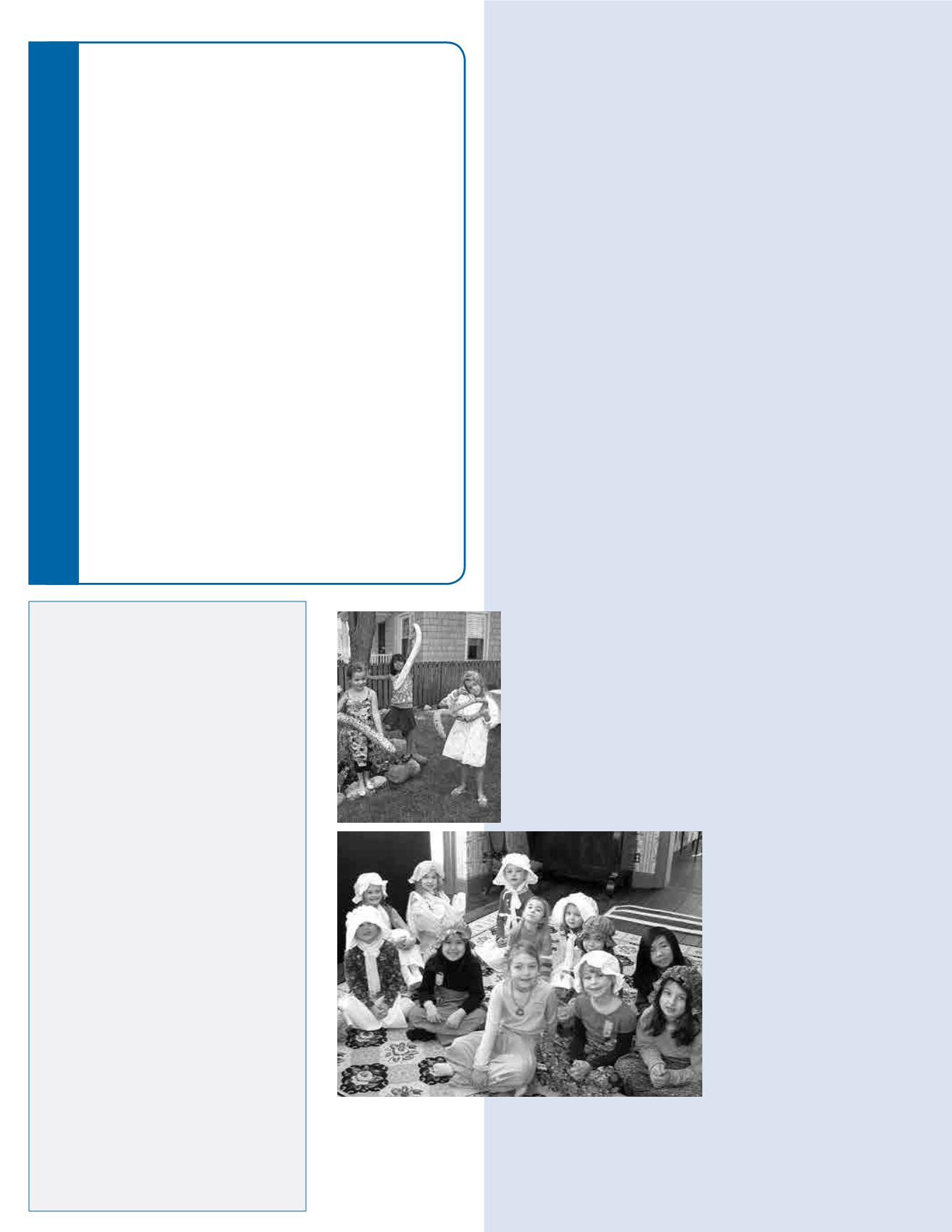 Step back in time to 100 years ago.What did children do in
the summer? Was it fun? Find out when elementary aged
children have the opportunity to discover what children did
for fun when the Grosse Pointe Historical Society sponsors,
Ribbon Farms Days allows children in the community to
develop an increased understanding of a very unique history
that we share," said Patricia O'Brien, vice president for educa-
Led by Isabelle Donnelly, director of education, each of the
four two week sessions focuses on a theme that incorporates
one or more of these traditions: Michigan Gardens, Grosse
Pointe History, Crafts and activities of the last two centuries
and Fairy Tales and children's stories.
The two week sessions begin June 17 and continue through
August 14. All programs begin at 11 a.m. and end at 3 p.m.
A special field trip to the Edsel and Eleanor Ford House for
the Fairy Tale Festival is part of Session IV.
Held at the historic Provencal-Weir House, Ribbon Farm
Days provide students in grades 3, 4 and 5 the opportunity
to learn about the children who lived in Grosse Pointe in the
past. Enrichment, crafts and cooking experiences introduce
children to skills and games from our rich history.
Session I, June 17, 19, 24 & 26 is called Gardens.
investigate migration patterns of birds and butterflies
indigenous to the area. Crafts focus on traditional ways of
making our gardens attractive to birds and butterflies.
Session II, July 8, 10, 15 & 17 is about Grosse Pointe
History.
In this session students discover life in Grosse
Pointe when it was a forest and farm land. Crafts focus on
boats and homes. Cooking skills include making turnovers.
Session III, July 22, 24, 29 & 31 is everything there is to
know about Ribbon Farms.
Games children played domestic
chores and crafts focus on making candles and holders, dying
wool and weaving. Cooking skills include making cornbread.
Session IV, Aug. 5, 7, 12 & 14
is about Children's Stories.
Children have the opportunity
to investigate the importance
and meaning of stories for
children. An added attraction
is a field trip to the Eleanor
and Edsel Ford House for the
Peter Pan exhibit followed
with a special Peter Pan Pirate
scavenger hunt. Transporta-
tion to the Ford House is
Children bring lunch from home.
Registrations begins May 1, 2014
Tuition for members is $90 for one session, $170 for two sessions,
$160 each for three sessions and $150 each for four sessions.
Non-Member tuition is $125 per session.
Information at: 313-884-7010 or
Ribbon Farm Days
..........................................President
........................................Past President
..........Vice President-Administration
.................. Vice President-Development
............Vice President-Education
...................Vice President-Properties
......... Vice President-Preservation
................................................ Treasurer
..........................................Secretary
The Grosse Pointe Historical Society Headquarters,
Provencal-Weir House, c. 1823, 376 Kercheval Ave., is open
the second Saturday of each month, during special events
and by appointment. The Alfred B. and Ruth S. Moran
Resource Center, 381 Kercheval Ave., is open Tuesday and
Wednesday, 10:00 AM–12:30 PM and 1:30–4:00 p.m. for
Telephone: (313) 884-7010.
a convenient way to do both.
Not Yet a Member? Want to donate?
Dr. Frank Bicknell Lectures 2011-2012
September 17 –
Arsenal Of Democracy:The American Automobile
Industry InWWII
Presenter: Dr. Charles K. Hyde
25025 Mack Avenue, Grosse Pointe Woods, MI
Automobile manufacturers in Detroit and the surround-
ing area accounted for one-fifth of the dollar value of
the nation's total war production in WWII. Dr. Charles
K. Hyde details the industry's transition to a wartime
production powerhouse and its notable achievements.
October 15 –
The Boy Governor: Stevens T.Mason AndThe Birth
Of Michigan Politics
Presenter: Dr. Don Faber
Stevens T. Mason Elementary School
1640 Vernier, Grosse Pointe Woods
Don Faber tells the story of this dominant political
figure in Michigan's early development, Michigan's first
governor at age 24, the youngest chief executive in any
state's history. Capturing Mason's youthful idealism and
visionary accomplishments, including his advocacy for a
strong state university and legislating for the creation of