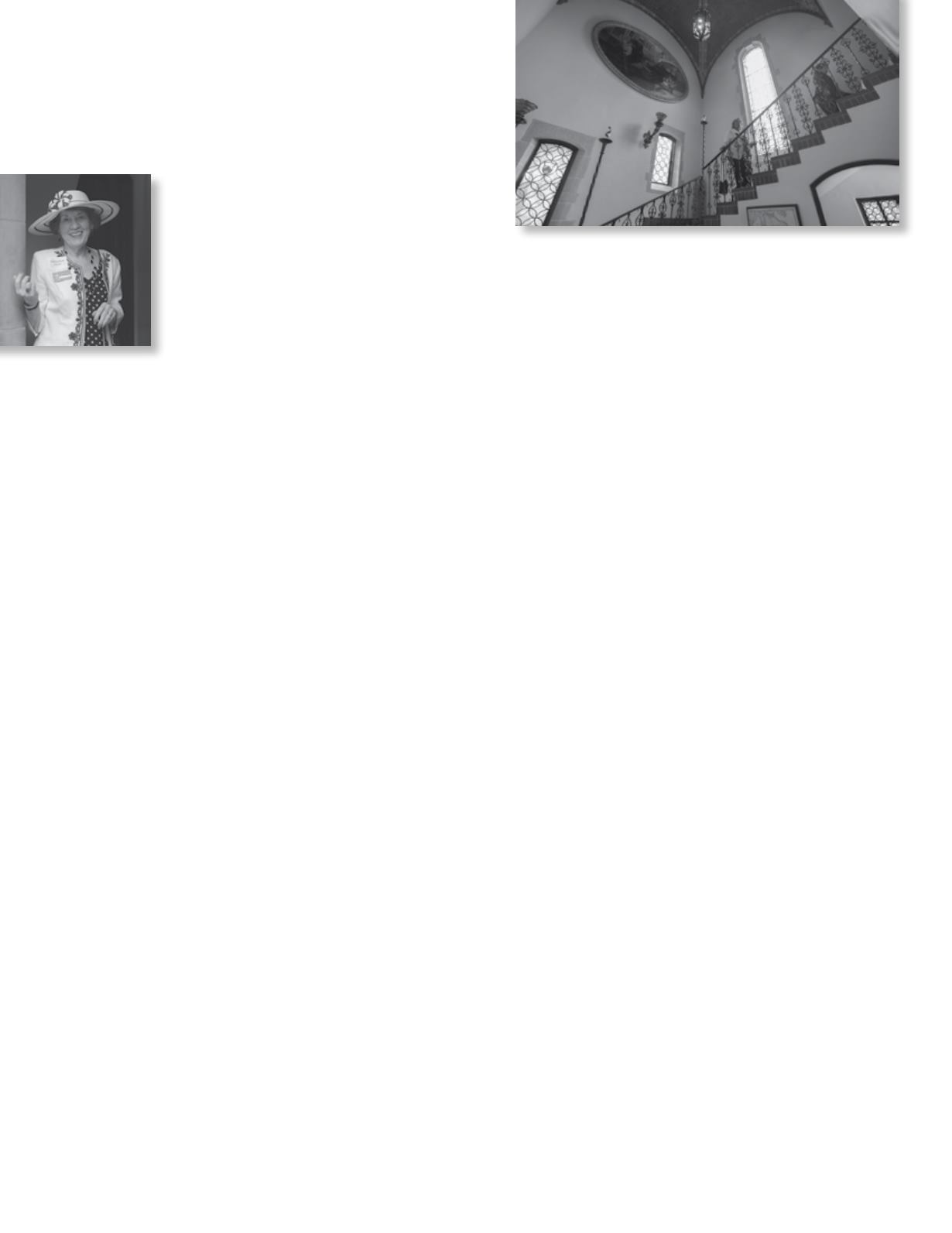 6
La Dolce Vita
thank you
La Dolce Vita
was a wonderful opportunity to meet
friends, enjoy an excellent repast and be amazed at the beauty
and artistic elegance of the Charles Dean House.
It was made possible by the generosity
of Mr. and Mrs. Sergio Mazza, who invited
us into their home, and the people in the
community who donate their time and
talent to this event.We are grateful for their
The enduring beauty of the Tuscan
countryside was the backdrop for the
Grosse Pointe Historical Society's 10th
Summer Gala, "La Dolce Vita," onThursday, June 6, at the
Charles A. Dean house in Grosse Pointe Farms.
Chaired by Susan Hartz and Susan Budrys, the party's
honorary chairs Cynthia Dean Navarra, daughter of
Mr. and Mrs. Dean, and the Ruffner family who purchased
the home in the 1970s the evening was a rhapsody of food
The Honorary Committee included: Judy and Randy
Agley, Mr. and Mrs. John L. Booth II, Cynthia and Julius
Huebner, Stephanie Germack-Kerzic and Patrick, Mary and
Ron Lamparter, Mary andThomas C. Shafer and Diane and
Ridgeland, the Tuscan-style home designed by famed
architect Hugh T. Keyes, was built for Mr. and Mrs. Charles
A. Dean, Jr., on one of the few sloping sites in Grosse Pointe.
Bordered by giant oak trees, this Italian villa is the result
of a successful collaboration between the homeowner and
The party included tours of the house led by docents:
Lynn Detwiler, Marlene Harle, Martha Louisell, Bernadette
Medura, Athena Pappas and Pam Scanlon.
An Italian-inspired strolling supper was catered by
Robert Nahra and his staff at Lakeland Manor and Event
Music in one of the gardens featured Cristina Carollo,
lyric soprano, and Joe Recchia, accordionist. Classical
guitarist Levi Henson performed in another garden. In
the living room, pianist Jack McCormick played the music
of George Gershwin, Cole Porter, and other American
"Preserving our historic buildings honors the artisans
who poured their talents into their work, and so we are
pleased to welcome supporters of the Grosse Pointe
Historical Society to our home, Ridgeland," said Lora
Mazza, current owner and host of the fundraiser.
Construction on the L-shaped house, which is
approximately 8,800 square feet, began in 1924 and
"We, as well as the previous residents, enjoy the architec-
tural brilliance of this unique home, Lora Mazza added. "It is
designed to fit the landscape while creating views which really
make one feel as though they are in Tuscany. Built in the
1920's, the house is perfectly suited for entertainment of large
or small parties and offers many charming features to please
The Grosse Pointe Historical Society gratefully acknowl-
edges the support of its sponsors and donors for La Dolce Vita.
Business and corporate sponsors included: Michael
Dixon and Darrell Finken, Rita and Terry Ernest, Grigg
Graphic Services, Grosse Pointe Florists, Grosse Pointe
News, John F. Martin Photography, Lakeland Banquet &
Event Center, Lucido's Florist.
Silver Sponsors were: Mr. and Mrs. George Ellis,
Gandelot & Associates, Henry Ford Health System,
Richard & Jane Manoogian Foundation, Peter Ruffner,
Cat and Rick Ruffner, Mr. and Mrs. Mark Valade.
Bronze Sponsors were: Dr. Richard Baumgarten and
Dr. Cheryl Wesen, Carolyn Candler and Charles Leahy,
Mrs. Ruth Glancy, Higbie Maxon Agney Realty, Mary
Northcutt and Michael Goodell.
Wine donations were made by: Ms. Susan Budrys,
Carolyn Candler and Charles Leahy, Mr. and Mrs. Charles
Harle, Mr. and Mrs. Jonathan Hartz, Mr. and Mrs. Rudolph
Liedtke, Mr. David Montgomery, Dr. Patricia O'Brien,
Mr. and Mrs. Russell Peebles, Mr. and Mrs.Tom Schoenith,
Mr. Gail Sidlek, Village Wine Shop, Mr. and Mrs. John
Dr. Lourdes V. Andaya
Ms. Lois Bertani
Ms. Jane W. Gage
Mr. and Mrs. Brian G. Connors
Mr. and Mrs. J. Lewis Cooper, Jr.
Mr. and Mrs. Thomas Cracchiolo
Mr. and Mrs. John Donnelly
Mrs. William L. Drennen
Mrs. J. Kay Felt
Mr. and Mrs. William B. Krag
Ms.Susan M. Lewandowski
Mrs. Joseph Louisell
Ms. Maud Lyon
Ms. Mary I. McLeod
Mrs. James. Millies
Mrs. Ayers Morison
Mr. and Mrs. James Nicholson
Mr. and Mrs. Frank K. Penirian
Mr. Ralph C. Wilson
Mr. and Mrs. Scott Reilly
Dr. and Mrs. Thomas E. Singelyn
Mrs. Gail Stroh Marentette
Mr. and Mrs. David Tobbe
Mrs. Robert Valade
Mr. and Mrs. Robert Wachter
Mr. and Mrs. Gail L. Warden