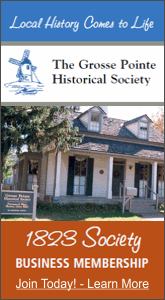 Local businesses are offered the unique opportunity to partner with the Grosse Pointe Historical Society in the 1823 Society. Opportunities to use the Provecal-Weir House for meetings and events, links on our website and postings in our advertising for special events are just some of the benefits to joining. Learn More


Grosse Pointe has a varied and vibrant history. The Native Americans who first tamed the wilderness, the French and British settlers amazed at the area's natural resources and the wealthy auto barons who built their magnificent estates along the beautiful lakeshore all helped create our history.
The Society was founded 60 years ago to celebrate this rich heritage and preserve it for generations to come. We believe that history is an invaluable part of our lives, connecting us to our past and providing us with insight about who we are today.
The Society sponsors programs that bring history to life. We also manage facilities that preserve and protect important artifacts from the past.
We invite you to become a member of the Grosse Pointe Historical Society today. Your membership supports our effort to make the history of the Grosse Pointes relevant, vital, and accessible through:
Preservation projects
Educational programs for all ages
Historic plaques
Monthly events
As a member, you will enjoy the following benefits
The Society's newsletter
Use of The Ruth S. and Alfred B. Moran Resource Center.
Invitations to Society events.
A discount on Grosse Pointe Historical Society programs.
A discount in the La Belle Country Store.
The opportunity to participate in volunteer & research programs
The opportunity to rent the 1823 Provencal-Weir House
Member Rental Information.
A membership in Time Travelers (Individual classification and above)
that provides access and benefits to more than 200 historical societies across the country.
New members, (Individual classification and above), receive the DVDs - Recollections of the Past (Grosse Pointe 1650-1900) and The Past as Prologue (20th Century Grosse Pointe).


To become a member of the Grosse Pointe Historical Society and help us enrich our community, print and send us the membership form or call (313) 884-7010.
Download a Printable Membership Form
Please make your check payable to the Grosse Pointe Historical Society and send it to:
Grosse Pointe Historical Society, 381 Kercheval, Grosse Pointe Farms, MI 48236

Thank you for your support! MICS 12443-0689 All but $8.00 of your membership dues is tax deductible in accordance with state and federal laws. The $8.00 covers the subscription price of The Moorings.