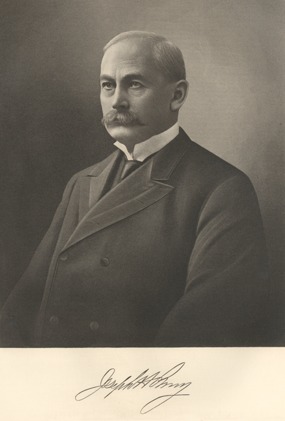 Joseph H. Berry was born in Elizabeth, Union County, New Jersey of British immigrants on March 10,1839. He moved with his family from Richmond, Virginia to Detroit in 1855. At sixteen years of age he began working for Theodore H. Eaton in a wholesale chemical house. He quickly realized a need for better varnish and began experimenting.

Family legend states that Mr. Berry perfected his varnish on his mother's kitchen stove. In 1858 he leased a small building southwest of Detroit in Springwells and began manufacturing his own brand of varnish. In 1860, he partnered with his brother Thomas and began Berry Brothers Varnish, Inc.

Joseph Berry became one of the first fulltime residents of Grosse Pointe in 1882 when he began construction at 50 Lake Shore Drive. He had 15 acres of extensive gardens and greenhouses.

The Berry Estate was the largest estate ever probated in Wayne County after Mr. Berry's sudden death in 1907. A broken ankle sustained when getting out of his carriage 3 months prior, caused his unexpected death. The injury developed into inflammatory rheumatism. Eventually an infection reached his heart and he passed away at 1:30 in the morning of May 22, 1907. It is believed by many that he possessed more property than any other individual Michigan resident at the time.